Wind farm construction contractor plays a critical role in developing the wind energy sector in Vietnam, helping to drive sustainable economic growth while reducing the country's dependence on fossil fuels. In the following article, we will learn the basic information about wind farm construction, as well as the reputable wind power contractor PC1 EPC.
What is wind farm construction?
Wind energy is a renewable, non-polluting, and abundant energy source. It has the potential to provide a significant portion of the world's electricity needs while reducing greenhouse gas emissions and dependence on fossil fuels.
Wind farms play a vital role in harnessing this potential by generating electricity from the wind's kinetic energy. They consist of multiple wind turbines that are strategically placed to capture the maximum amount of wind energy.
Wind farm construction involves the process of developing and building wind energy facilities that harness wind power and convert it into electricity. It is a complex and multi-stage process that requires significant planning, investment, and coordination among developers, government agencies, and local stakeholders.
The importance of wind farm construction
Wind power, like fossil fuels, is a clean, non-polluting energy source. If you're concerned that solar panels would take up too much room, wind power is the best option. Because the region can still be used for farming or other agricultural operations after the turbines are installed. Furthermore, in Vietnam, which has a hot temperature and a lengthy drought, wind power helps to reduce the country's reliance on hydroelectricity. As a result, in today's world, investing in and developing wind farm construction is a realistic, long-term, and strategic solution for our country's economy.
Wind farm construction conditions
In order for a wind power project to be permitted to begin and complete construction, in addition to fully meeting the conditions prescribed by the law on construction investment management and environmental protection requirements, the following requirements must be met:
Having construction design documents appraised and approved;

Having a signed power purchase and sale contract with the Power Buyer;

Having a financial supply contract and a commitment to capital sources to ensure construction progress in the approved construction investment project is on schedule.
Requirements for equipment used in wind farm construction
The following requirements must be met by the equipment used in the construction of wind power projects:
Ensuring that Vietnam's standards, technical regulations, or international standardization set by IEC or equivalent standards are met.

Wind power project equipment must be unused and have a factory expiry date of no more than 5 years, as well as a full Certificate of Origin and a Certificate of Appropriate Production. If you want to use wind power equipment that has been used or shipped for more than 5 years, you must report it to the Ministry of Industry and Trade for consideration and decision-making.
What should be evaluated before constructing a wind farm?
Wind energy power evaluation
Considering the wind resource potential at the location of installation and construction of wind power projects at factories. Furthermore, in order to assess the potential of wind resources at the construction site, topography and climate characteristics such as wind strength throughout the seasons must be considered.
Construction condition evaluation
It is necessary to determine whether the terrain and road conditions are appropriate for heavy transport vehicles. It is also necessary to consider the possibility of future wind power plant expansion.
Future planning evaluation
To come up with plans to expand the scale of wind power plants in the future, assess and consider the scale at the installation site as well as related conditions.
An overview of the wind energy development process
Wind farm construction typically involves several stages, including site selection, project planning, environmental impact assessment, permitting, turbine procurement and installation, grid connection, and ongoing maintenance and operation. Here's a brief overview of each stage:
Site selection: This involves identifying suitable locations for wind farm development, which typically require a high wind resource, access to transmission infrastructure, and minimal environmental and social impacts.
Project planning: Once a site is selected, the developer will conduct a feasibility study to assess the economic viability of the project, including the size and number of turbines needed, the layout of the wind farm, and the estimated energy production.
Environmental impact assessment: Developers are typically required to conduct an environmental impact assessment to evaluate potential impacts on wildlife, habitats, and cultural resources, and to develop mitigation measures to minimize these impacts.
Permitting: Developers must obtain various permits and approvals from federal, state, and local agencies, including permits for construction, operation, and environmental compliance.
Turbine procurement and installation: Once permits are obtained, the developer will order turbines and other equipment and begin constructing access roads, foundations, and the electrical infrastructure needed to connect the turbines to the grid. The turbines are typically installed in sections, with the blades, tower, and nacelle assembled on site.
Grid connection: Once the turbines are installed, they must be connected to the electrical grid, which involves building a substation and transmission lines to transport the electricity generated by the wind farm.
Ongoing maintenance and operation: Wind farms require ongoing maintenance, including routine inspections, repairs, and replacement of components as needed. Wind farm operators also need to manage the electrical output of the turbines to ensure grid stability and reliability.
Criteria for selecting a quality and reputable EPC wind farm contractor
Because wind power projects are always major, national-scale undertakings, selecting a contractor, a unit to collaborate on construction, or a partner to do the same is critical. It is equally vital to the project's overall success. As a result, the selection criteria for an EPC general contractor for a wind power project must be exceedingly stringent. Please see the following criteria for evaluating an EPC contractor's capacity in the power industry:
Registered business in accordance with the bidding package's content

Had adequate experience and capacity to perform the EPC contract's items.
Introduction of professional wind power contractor, EPC PC1
PC1 EPC is a wind farm construction contractor based in Vietnam, specializing in installing, operating, and maintaining wind turbines. With extensive experience in the industry, we have developed a reputation for delivering high-quality projects that meet client's needs and contribute to the development of the renewable energy sector in Vietnam.
PC1 EPC has a skilled team of engineers, technicians, and project managers who work closely with clients to ensure that projects are delivered on time, within budget, and to the highest standards of quality and safety. From site selection and planning to turbine procurement, installation, and ongoing maintenance, we provide comprehensive services to ensure the success of each project.
PC1 EPC is committed to delivering sustainable, cost-effective solutions that meet the needs of clients to achieve the highest levels of customer satisfaction.
Why should you choose EPC PC1 as the EPC general contractor for wind farm construction?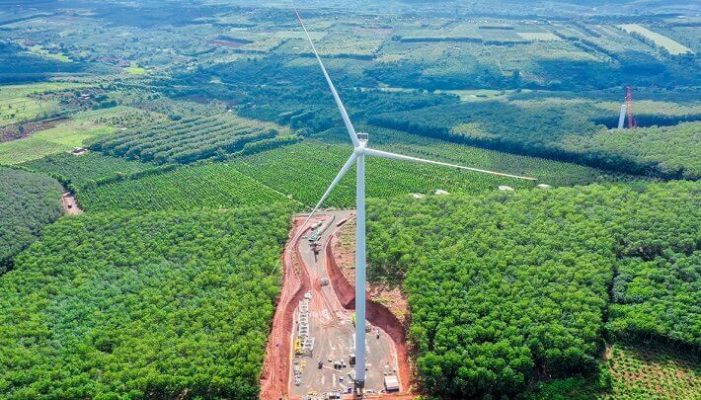 PC1 Group is one of the few EPC general contractors to complete all wind power projects before the October 31, 2021 deadline to take advantage of the favorable electricity purchase price (FIT) regulation.
Ranked among Vietnam's "Top 50 Most Profitable Enterprises in 2021" and among the "Top 500 Most Profitable Enterprises in Vietnam in 2021."

Using EU wind turbine technology and an international project management system, and collaborating with the world's leading partners.

Having substantial financial resources, concentrating on big investments, procuring, manufacturing, and installing innovative equipment and machinery to support wind generating projects,

A team of experienced mechatronics engineers, supervisors, guides, and cable installers were deployed to be trained many times in Germany.

Invest in synchronous equipment and machinery to be more proactive in project implementation.
Wind power projects constructed by EPC PC1
PC1 is the EPC general contractor for legal services, technical design, procurement, building, development, manufacturing, installation, testing, and the entire factory for the projects, as well as COD the entire factory. The major power plants are as follows:
IA Bang 1 Wind Power Plant Project – 50MW
Investor: Gia Lai Electricity Joint Stock Company

Timetable for completion: October 2020 – October 2021
In November 2020, the Ia Bang 1 wind power plant was formally launched. The project has a 50 MW capacity, with 12 4.2MW V150 turbines and a total investment of VND 1,560 billion after taxes.
According to estimations, once connected to the grid, the plant will contribute roughly 150 million kWh/year to the national power system while also helping to cut emissions by up to 150 thousand tons of CO2/year. The project will add a large, safe, and environmentally friendly power source, ensuring national energy security, creating more jobs, increasing budget revenue, and contributing to the socio-economic development of the community, while also opening up many new tourism opportunities, establishing prestige, and increasing the appeal of Gia Lai province and the Central Highlands region to big investors.
Tan Phu Dong Wind Power Plant Project (Nearshore)
Investor: Tien Giang Wind Power Joint Stock Company

Timetable for completion: March 2021 – October 2021
The Tan Phu Dong 2 Wind Power Plant Project has a 50MW design capacity and produces approximately 153.4 million kWh per year. Tan Thanh commune, Go Cong Dong district, is the location for the building of wind turbines in the sea area. The total land area to be used is estimated to be around 10.25 ha. The overall project investment is at 2.241 billion VND, with a 50-year operation lifetime. Construction will commence in March 2021, and commercial activities will begin in October of that year.
Lien Lap Wind Power Plant Project – 48MW
Investor: Lien Lap Wind Power Joint Stock Company

Time to complete: April 2020 – September 2021
Phong Huy Wind Power Plant Project – 48MW
Investor: Phong Huy Wind Power Joint Stock Company

Time to complete: April 2020 – September 2021
Phong Nguyen Wind Power Plant Project – 48MW
Investor: Phong Nguyen Wind Power Joint Stock Company

Time to complete: April 2020 – September 2021
Choosing EPC PC1, a reputable and quality general contractor for wind farm construction
For over 60 years, PC1 Group has been a pioneer in the field of general contractor for wind farm construction, providing full solutions ranging from design to equipment supply, installation, operation, maintenance, and repair to assure client safety. Thousands of investors across the country benefit from optimal performance and greater efficiency. We have a distinct advantage at PC1 in the following areas:
Over 50 years of experience in the sector.

A team of specialists, professional consultants, more than ten strong member units, and a 24/7 technical support center.

Thousands of systems have been placed across the country.

Assisting the project throughout its life cycle with partners and investors

Many domestic and international partners have put their faith in me.

There are partners all around the world who supply outstanding equipment.
PC1 Group is the choice of a valuable and effective EPC general contractor for customers, businesses, and investors in the electricity industry. PC1 Group pledges to be "always a trustworthy partner, providing exceptional value to consumers!"
Please contact PC1 Group if you are a customer, a business, or an investor interested in power projects. Today, we are prepared to support you throughout the whole project.
PC1 GROUP JOINT STOCK COMPANY
Tax code: 0100100745; Ticker symbol: PC1

Building CT2-No. 583 Nguyen Trai, Thanh Xuan, Hanoi, VN

Hotline: 1900 99 88 63

Email: epc@pc1group.vn
See more: