PC1 Group Joint Stock Company was founded in 1963 and has approximately 60 years of experience in electrical construction and installation. It is now one of the leading EPC general contractor for wind farm construction in Vietnam and Southeast Asia.
What is wind farm construction?
A wind farm is a collection of wind turbines that are used to generate electricity in one location. Many hundreds of individual wind turbines may make up a large wind farm, which is spread out over a wide area. The land in between the turbines can still be used for farming or other activities. The largest wind farm in the world, Gansu Wind Farm, for instance, has thousands of turbines. Offshore space might also house a wind farm.
A horizontal axis wind turbine with an upwind rotor with three blades, attached to a nacelle on top of a tall tubular tower, is the basic design of nearly all large wind turbines. A medium voltage (often 34.5 kV), power collection system, and communications network connect each individual turbine in a wind farm. A fully developed wind farm typically places each turbine at a distance of 7D (7 the wind turbine's rotor diameter). This medium-voltage electric current is given a voltage boost at a substation so that it can be connected to the high-voltage electric power transmission system.
The importance of wind farm construction
Wind power, like fossil fuels, is a clean, non-polluting energy source. If you're concerned that solar panels would take up too much room, wind power is the best option. Because the region can still be used for farming or other agricultural operations after the turbines are installed. Furthermore, in Vietnam, which has a hot temperature and a lengthy drought, wind power helps to reduce the country's reliance on hydroelectricity. As a result, in today's world, investing in and developing wind farm construction is a realistic, long-term, and strategic solution for our country's economy.
Wind farm construction conditions
In order for a wind power project to be permitted to begin and complete construction, in addition to fully meeting the conditions prescribed by the law on construction investment management and environmental protection requirements, the following requirements must be met:
Having construction design documents appraised and approved;

Having a signed power purchase and sale contract with the Power Buyer;

Having a financial supply contract and a commitment to capital sources to ensure construction progress in the approved construction investment project is on schedule.
Requirements for equipment used in wind farm construction
The following requirements must be met by the equipment used in the construction of wind power projects:
Ensuring that Vietnam's standards, technical regulations, or international standardization set by IEC or equivalent standards are met.

Wind power project equipment must be unused and have a factory expiry date of no more than 5 years, as well as a full Certificate of Origin and a Certificate of Appropriate Production. If you want to use wind power equipment that has been used or shipped for more than 5 years, you must report it to the Ministry of Industry and Trade for consideration and decision-making.
What should be evaluated before constructing a wind farm?
Wind energy power evaluation
Considering the wind resource potential at the location of installation and construction of wind power projects at factories. Furthermore, in order to assess the potential of wind resources at the construction site, topography and climate characteristics such as wind strength throughout the seasons must be considered.
Construction condition evaluation
It is necessary to determine whether the terrain and road conditions are appropriate for heavy transport vehicles. It is also necessary to consider the possibility of future wind power plant expansion.
Future planning evaluation
To come up with plans to expand the scale of wind power plants in the future, assess and consider the scale at the installation site as well as related conditions.
An overview of the wind energy development process
Stage A: Preparation
The Preparation phase begins with the identification of a potential point and concludes when the project investor makes a deposit and receives Power Purchase Policy Approval. It is critical to determine whether the project site has been included in the National Wind Power Development Plan (GMP) or the Provincial SDP at this stage. This is a condition that determines the next steps in the development of a project.
If the project site is already included in the national/provincial SDP:
If no wind data is available at any point, the project investor should conduct wind measurements as soon as possible.

In areas where wind data is available, investors are advised to conduct wind measurements in accordance with international standards in order to obtain loans.
It is best to conduct wind measurements early in the project development process to reduce project development time. The estimated time for this first phase ranges from 6 months to 1.5 years for sites with available wind data and from 1 year to 2 years for sites without available wind data (minimum wind measurement time is 1 year).
If the project site is not included in the national/provincial urban development master plan, the investor may have to wait for 1 to 2 years for the project to be added to the planning.
Stage B: Project Development
The Project Development Phase begins with the Investment Decision or Feasibility Study and ends with the beginning of the Implementation Phase. During this stage, the investor must obtain certain agreements and permits, such as a Grid Connection Agreement, Measurement Agreement, Construction Permit… and conduct eligibility research, which will include all inputs and information needed to obtain the agreement and license. This phase is expected to take 1 to 5 years to complete, depending on the quality and results of the Feasibility Study, which may be required for additional explanation.
Stage C: Wind farm construction
Before beginning construction, the investor must have a Detailed Design that fully demonstrates the specifications, materials used, infrastructure details, and all other detailed planning requirements required by the regulations of International norms and domestic legislation. The Technical Design approved during the Project Development Phase serves as the foundation for this detailed design.
Stage D: Operation and Upkeep
Before the COD date, the Investor must perform an inspection and acceptance test on the plant when it is inaugurated and put into operation, as well as prepare the Acceptance Report. If there are still quality issues that do not affect the plant's basic parameters such as power capacity, plant life cycle, and operational safety, the investor may decide to take over. The minimum safety requirements, however, must be met.
The investor is responsible for developing the plant operation plan, as well as the operating documents and the annual maintenance plan, at the end of the trial operation period. The warranty period for plants with 30 MW or more is at least two years, with a minimum warranty of 3% of the investment costs for operation and maintenance. Furthermore, the factory owner must register the electrical equipment maintenance schedule each year in order to request approval from the National Load Dispatch Center.
The warranty period for plants under 30MW is at least one year, with a minimum warranty amount of 5% of the investment costs for operation and maintenance. In addition, the factory owner must register a maintenance schedule for electrical equipment each year in order to request approval from the Regional Load Dispatch Center.
Stage E: Stop mining and dismantling
Following the completion of the project operation phase, the wind power works will be upgraded, repaired, or decommissioned. If the exploitation and use of the project site is ceased, the project site must be returned to its original land use status. Decommissioning entails the removal of all wind turbines, offices, and other structures on the ground; foundations and roads were filled and repaired to restore the site to its original condition. Items such as power lines and other common electrical works with functional use may be retained depending on the land use planning in the project area; otherwise, they will have to be demolished.
Criteria for selecting a quality and reputable EPC wind farm contractor
Because wind power projects are always major, national-scale undertakings, selecting a contractor, a unit to collaborate on construction, or a partner to do the same is critical. It is equally vital to the project's overall success. As a result, the selection criteria for an EPC general contractor for a wind power project must be exceedingly stringent. Please see the following criteria for evaluating an EPC contractor's capacity in the power industry:
Registered business in accordance with the bidding package's content

Had adequate experience and capacity to perform the EPC contract's items.
See more: EPC general contractor requirements
Introduction of professional wind power contractor, EPC PC1
PC1 Group has the advantage of experience in the construction and installation of power projects with a capacity of up to hundreds of MW in Vietnam, despite being a new name in the market of contractors for wind  farm construction in Vietnam. As a result, when PC1 Group experts and engineers decided to invest in building and installation equipment to engage in the green energy business, particularly with wind power, they quickly mastered new technology, with world-leading process and technical requirements.
See more: Professional and prestigious EPC general contractor in Vietnam
Why should you choose EPC PC1 as the EPC general contractor for wind farm construction?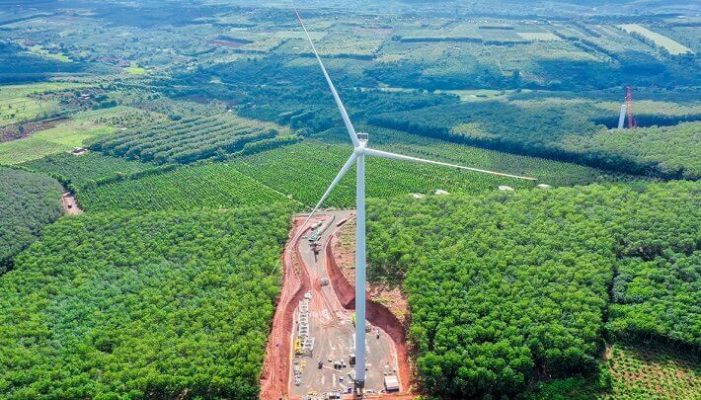 PC1 Group is one of the few EPC general contractors to complete all wind power projects before the October 31, 2021 deadline to take advantage of the favorable electricity purchase price (FIT) regulation.
Ranked among Vietnam's "Top 50 Most Profitable Enterprises in 2021" and among the "Top 500 Most Profitable Enterprises in Vietnam in 2021."

Using EU wind turbine technology and an international project management system, and collaborating with the world's leading partners.

Having substantial financial resources, concentrating on big investments, procuring, manufacturing, and installing innovative equipment and machinery to support wind generating projects,

A team of experienced mechatronics engineers, supervisors, guides, and cable installers were deployed to be trained many times in Germany.

Invest in synchronous equipment and machinery to be more proactive in project implementation.
Wind power projects constructed by EPC PC1
PCC1 is the EPC general contractor for legal services, technical design, procurement, building, development, manufacturing, installation, testing, and the entire factory for the projects, as well as COD the entire factory. The major power plants are as follows:
IA Bang 1 Wind Power Plant Project – 50MW
Investor: Gia Lai Electricity Joint Stock Company

Timetable for completion: October 2020 – October 2021
In November 2020, the Ia Bang 1 wind power plant was formally launched. The project has a 50 MW capacity, with 12 4.2MW V150 turbines and a total investment of VND 1,560 billion after taxes.
According to estimations, once connected to the grid, the plant will contribute roughly 150 million kWh/year to the national power system while also helping to cut emissions by up to 150 thousand tons of CO2/year. The project will add a large, safe, and environmentally friendly power source, ensuring national energy security, creating more jobs, increasing budget revenue, and contributing to the socio-economic development of the community, while also opening up many new tourism opportunities, establishing prestige, and increasing the appeal of Gia Lai province and the Central Highlands region to big investors.
Tan Phu Dong Wind Power Plant Project (Nearshore)
Investor: Tien Giang Wind Power Joint Stock Company

Timetable for completion: March 2021 – October 2021
The Tan Phu Dong 2 Wind Power Plant Project has a 50MW design capacity and produces approximately 153.4 million kWh per year. Tan Thanh commune, Go Cong Dong district, is the location for the building of wind turbines in the sea area. The total land area to be used is estimated to be around 10.25 ha. The overall project investment is at 2.241 billion VND, with a 50-year operation lifetime. Construction will commence in March 2021, and commercial activities will begin in October of that year.
Lien Lap Wind Power Plant Project – 48MW
Investor: Lien Lap Wind Power Joint Stock Company

Time to complete: April 2020 – September 2021
Phong Huy Wind Power Plant Project – 48MW
Investor: Phong Huy Wind Power Joint Stock Company

Time to complete: April 2020 – September 2021
Phong Nguyen Wind Power Plant Project – 48MW
Investor: Phong Nguyen Wind Power Joint Stock Company

Time to complete: April 2020 – September 2021
See more: List of projects implemented by EPC PC1 Group's general contractor 
Choosing EPC PC1, a reputable and quality general contractor for wind farm construction
For over 50 years, PC1 Group has been a pioneer in the field of general contractor for wind farm construction, providing full solutions ranging from design to equipment supply, installation, operation, maintenance, and repair to assure client safety. Thousands of investors across the country benefit from optimal performance and greater efficiency. We have a distinct advantage at PC1 in the following areas:
Over 50 years of experience in the sector.

A team of specialists, professional consultants, more than ten strong member units, and a 24/7 technical support center.

Thousands of systems have been placed across the country.

Assisting the project throughout its life cycle with partners and investors

Many domestic and international partners have put their faith in me.

There are partners all around the world who supply outstanding equipment.
PC1 Group is the choice of a valuable and effective EPC general contractor for customers, businesses, and investors in the electricity industry. PC1 Group pledges to be "always a trustworthy partner, providing exceptional value to consumers!"
Please contact PC1 Group if you are a customer, a business, or an investor interested in power projects. Today, we are prepared to support you throughout the whole project.
See more: PC1 portfolio
PC1 GROUP JOINT STOCK COMPANY
Tax code: 0100100745; Ticker symbol: PC1

Building CT2-No. 583 Nguyen Trai, Thanh Xuan, Hanoi, VN

Solution hotline: 0981.119.120

Email: epc@pcc1.com.vn